Friday, November 9, 2007
Liza Wang is now Dr Elizabeth Wang Ming-Chun
Translated by Jamie @
http://zazafied.blogspot.com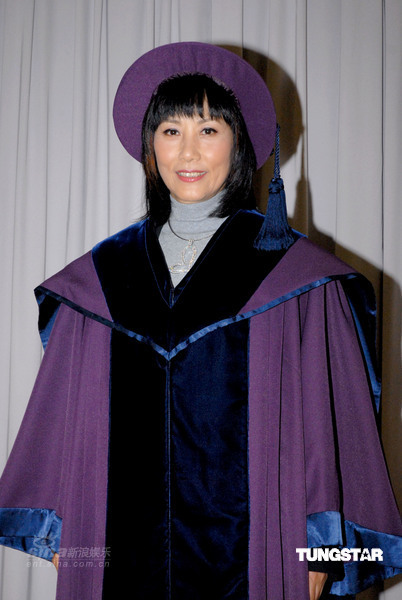 Ah Jie, Liza Wang
, has been receiving numerous prestigious awards and good news lately, the latest, being her honorary doctoral award from the CityU of Hong Kong. At the ceremony, Liza appeared to be immensely touched and was tearing a little when the director was addressing her achievements on stage. A lot of friends were present at the award ceremony, including her good friend Law Kar Ying, goddaughter Jennifer Tse Ting Ting (Nic Tse's sister), TVB's top managing directors, Stephen Chan and Virginia Lok, Dodo Cheng, Lee Hiong Kam, etc.
Liza said that when she first set foot onto the campus, it reminded her of her school days. When I looked at the mirror when I was wearing the graduation gown, I felt really different, it's not like wearing a costume when I film a drama, because it felt real. I am incredibly happy as many of my friends are here to celebrate my achievements with me.
When asked if Law Kar Ying bought anything to celebrate Liza's achievements, he said, "I've already given it to her, it's a heart shaped necklace, Liza liked it a lot. It cost me 5 digits as it had a lot of carats. As it's a "crooked heart", so it's kinda crooked when Liza wears it. Did u get the "crooked heart" because you are not giving all your love to Liza? Kar Ying laughed, "Everyone has a sly heart to some point!" (Have you planned any celebrations?) Kar Ying said, "We've already shook hands with each other. In september, when I was guest starring in her concert, I didn't even get a red packet from Liza, and I had to pay for the airticket from my own pocket. Liza should pay for my trip when we go touring the next time." (Why didn't you kiss Liza just now?) Law Kar Ying said, "You know that I am incredibly shy!"
CONGRATULATIONS TO DR LIZA WANG!!!!!
*~The Show Must Go On!~*