Tuesday, January 27, 2009
Liza - CNY day 1
Monday, January 26, 2009
牛 Year Goodies
1. 迎春花 - Liza and Adam
http://www.megaupload.com/?d=QF2OMMS8
2. 欢度快乐年 - Liza
http://www.megaupload.com/?d=EG4SATPU
3. 欢乐年年 - Liza and Adam
http://www.megaupload.com/?d=9B10HDDJ
requests for other Liza songs can be made on the tagboard :)
Happy 牛 Year!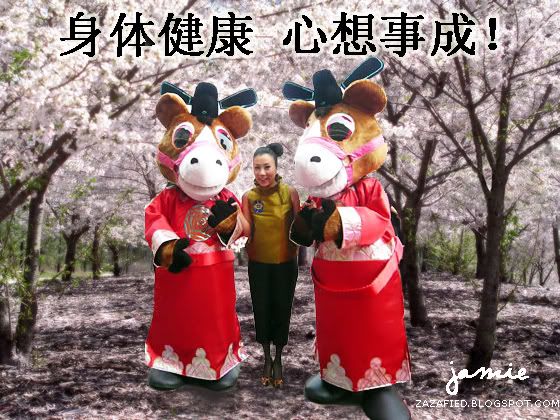 HAPPY YEAR OF THE OX!

pic credit to lizawang.com

Thursday, January 22, 2009
All Out to improve, HK can do it!
Translated by Jamie @ http://zazafied.blogspot.com
Source: Apple Daily 21/01/2009
Dr Liza Wang (Ah Jie)
, Nancy Sit, Susanna Kwan, Chang Wah Sin, Angela Tong, Moses Chan, Raymond Lam, Bosco Wong and Wayne Lai attended an activity to encourage the HK citizens to stay optimistic during this global economic crisis.
As Liza was unwell, she left after going on stage for a short while. (Liza had just returned from Beijing after filming a CNY show to be aired on "Tong Yat Sau Gor (Same Song)" )
Saturday, January 17, 2009
WESFSW
WESFSW
They're so sweet as a couple! i'm such a huge Liza+KwokFung shipper right now.... i want more!
Kwok Fung's death was a definite shocker for Liza. what kwok fung said to her at the end was so sad... =( and he died in Liza's arms. sighhhhhhhh i hate that scene!!!
I love the scene where Kwok Fung gave Liza a pair of earrings. =p sweetest scene ever!
Monday, January 12, 2009
Liza's IFPI Achievements
香港IFPI唱片协会于1967年成立,1977年开始有香港金唱片颁奖典礼,IFPI唱片销量大奖前身即香港金唱片奖,3年前改为"IFPI唱片销量大奖"。唱片协会对香港本地的唱片销量进行统计,获奖唱片的惟一标准就是当年的销售情况  
  自1977年——2008年,香港本地的白金唱片最多的前几位歌手:  
  第一名 谭咏麟 20白金  
  第二名 邓丽君 17白金  
  第三名 林子祥 16白金 张学友 16白金  
  第四名 许冠杰 14白金 徐小凤 14白金  
  第五名 陈百强 12白金
 第六名 汪明荃 11白金
  第七名 梅艳芳 10白金 关正杰 10白金  
  第八名 张国荣 9白金 甄妮 9白金 郑少秋 9白金
第九名 罗文 8白金    
  再附上自1977年——2008年,香港本地的金唱片排名靠前的几位歌手:  
  最多的是邓丽君 10金  
  其它较多的还有  
  徐小凤 5金  
  杜丽莎 5金  
  汪明荃 4金
  郭富城 4金  
  许冠杰 3金  
  罗文 3金  
  谭咏麟 2金  
  张国荣 2金  
  张学友 2金
由 nobody 留下 1/12/2009 1:49:19 AM
香港IFPI以往标准是2.5万算金唱片,5万算白金唱片,10万算双白金,15万算三白金——以此类推。
但近些年来香港市场每况愈下,以至于2007年香港市场沦落到单张唱片销量能达"金唱片"的歌手连10人都不到,
香港IFPI总裁冯添枝介绍,他们在08年将金唱片标准调低至1.5万张,白金唱片为3万张。作为之后的标准
作者 songwei718
汪明荃的11白金唱片:
1979 春残梦断
1979 山歌情谊长
1979 欢乐年年(汪明荃及郑少秋)
1979 箫十一朗(汪明荃及罗文)
1980 天虹
1981 千王之王
1981 京华春梦
1982 千王群英会
1983 郎归晚
1983 万水千山总是情
1988 汪明荃金曲精选
汪明荃的4张金唱片:
1977 欢乐年年(汪明荃及郑少秋)
1980 渺渺情
1982 杨门女将
1982 大家恭喜欢乐年年(李宝莹, 文千岁, 郑少秋, 汪明荃)
作者 千秋万荃
还可以看下这里
http://www.ifpihk.org/www_1/go18e.php
Translation coming later.
Thursday, January 8, 2009
Liza at a Horseracing Activity in Happy Valley
Translated by Jamie @ http://zazafied.blogspot.com
Source: www.lizafans.com
Dr. Liza Wang and Raymond Lam were invited to kickoff the horse-racing activity for 2009 in Happy Valley. Liza, Raymond along with the Horse-racing club CEO and Hong Kong Feng Shui expert Mak Ling Ling greeted the media at the press conference. Liza and Raymond also posed with the biggest golden horseshoe in Hong Kong.
Responding to Vivian Chow
Liza asked the reporters if they managed to get any news of Vivian Chow's wedding. Smiling, Liza said,
"I think all of you must have spent a lot of time and energy on this coverage. I've seen her wedding pics and she looks very happy.
(But she didn't smile much) No, I don't think so!
(Is it an act?) No, of course not!
(Is it to redeem her fallen reputation?) No, as she is not entirely involved in the entertainment industry.
(Do you think she is not entirely happy with the wedding arrangements?) Everyone has their own arrangements, most importantly is that they feel comfortable at their own wedding. Vivian has never wanted an elaborate wedding.
(But their parents didn't attend the wedding) How do you know?"
Responding to Zhang ZiYi's beach photos
(Have you seen Zhang Ziyi's pictures?) Yes, it's all over the papers. But it was taken during her leisure time, many other celebrities have had similar encounters. However, I feel that the paparazzi should respect the celebrities' privacy, especially during their own time. Most importantly is that Zhang ZiYi's actions did not affect anyone else, but I feel that being a public figure, she should be more wary of her surroundings. Personally, I would not sunbathe in my birthday suit but I do go swimming in indoor swimming pools."
Politics
The Hong Kong Chief Executive responded to Sun Gwong cinema matter raised by the Chinese Artist Association of Hong Kong. Liza being the chairman of this association hoped that the association would receive good news of the extension of the contract before the Chinese New Year.
(Would the government buy over the cinema and subsequently lease it over to the association?) "No, as the landlord would then take advantage of the situation and ask for a very high price. We have stopped all correspondence with the landlord as they did not manage to reach any agreement despite several negotiations. Without Sun Gwong Cinema, the Chinese Opera industry would be severely affected as their performance would be cut by half as they do not have any other cinemas nearby. Although there are other cinemas in other areas, but as they are located to far away, surely the audience numbers would be decreased dramatically. If the Sun Gwong cinema were to be closed, there would be a huge number of individuals that would be jobless."
I LOVE the 2nd pic. soooooooooo cute!
Go Liza! I support your work for the Cantonese Opera community.
Tuesday, January 6, 2009
Liza Fanclub 31st anni
Translated by Jamie @ http://zazafied.blogspot.com
Source: www.lizawang.com
Dr. Liza Wang's Official Fanclub Gathering
Every year, Dr. Liza Wang's official fanclub would organize a gathering to celebrate the club's anniversary. 2009 marked the club's 31st anniversary and the gathering was held at the recovery center of the Hong Kong Cancer Society. Liza greeted her fans in a light pink outfit and wished all a very happy new year. Liza was exceptionally happy when a 17 year old fan presented some flowers to her. Liza also took group photos with her fans and also offered to autograph some of their stuff. Liza requested that she would first take pictures with fans who have yet to have a photo with her, followed by other regular fans.
Liza chose to have her fanclub party at the Hong Kong Cancer Society Recovery Center as Liza felt that having the party at a hotel (which was the arrangement in past years) was a waste of money. Therefore, as a committee member of the Hong Kong Cancer Society, Liza decided to change the venue to the cancer recovery center so that her fans and the general public would have a deeper understanding of how the cancer society operated. Liza also donated $10,000 to the center.
When asked if Liza had any wishes for the new year ahead, Liza smiled and said that she hoped that the world economy would improve and everyone would be blessed with good health.
Liza also responded to reports regarding Vivian Chow and Joe Nieh's wedding. Liza said that she was quite acquainted with the both of them but she was not invited to attend their wedding. However, Liza has already sent a sms to congratulate the happy couple. Liza said that Joe Nieh's reputation has been affected after his affair was disclosed to the public, but she strongly backed Joe Nieh, adding that he is indeed a good man, but swayed slightly. Liza believes that he would be a faithful husband after their marriage.
Liza is living up to her pink lady reputation! I LOVE her outfit and I simply LOVE LOVE LOVE her hairdo!
Friday, January 2, 2009
Happy 2009!
Dear Liza and all fans,
HAPPY HAPPY 2009!!!!
=)
From,
The Zazafied Crew.