Thursday, July 31, 2008
Liza's admitted into the hospital
According to Liza's official fanclub, Liza's been admitted into the hospital with high fever. However, as she will be having a performance tonight, she will still appear and perform her part. Aiks! Hopefully she'll have a speedy recovery.
GET WELL SOON LIZA JIE!
Sunday, July 27, 2008
Football Fever
Translated by Jamie @ http://zazafied.blogspot.com
Source: Lizafans.com
HK Celebrity Football team went to Macau for a friendly match with the Macau Celebrity Football team yesterday in order to help raise funds for the Sichuan disaster relief efforts. The celebrities that were present include: Law Kar Ying, Lam Mun Cong, Kenneth Ma, etc. The HK team won by a score of 2-0.
Law Kar Ying celebrated his team's victory with Liza Wang by his side. Liza Wang and Law Kar Ying "argued" in front of the media. Liza described Law Kar Ying to be a very clumsy footballer and she also revealed an incident where Law Kar Ying scored his own goal during a friendly match with a local team in Holland a few years back. Liza said that she thought that he did score a winning goal and that she was so happy that she jumped and screamed for joy, only to find that he has scored his own goal by mistake. Liza also added that she rarely watches Kar Ying's football matches, but whenever she's present, Kar Ying would often make a mistake and score his own goal, coincidence?
Friday, July 4, 2008
zaza vs macy chan
ha...look wat i spotted!!!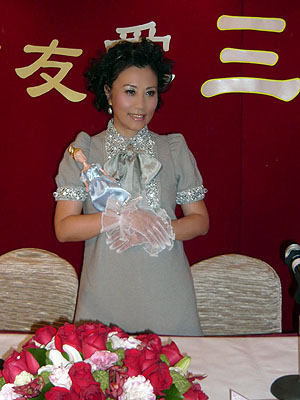 Macy Chan (she was in Forensic Heroes II playing Kevin's cuz) is wearing the exact same top that zaza wore for the fanclub party...only Macy is 2 months late!hahaha...zaza was first!!!and not trying to be biased...but zaza looks wayyyyyyyyyyy more prettier in that top than Macy...i think zaza's hair had something to do with it cos it just makes the whole outfit look perfect...whereas Macy's is just blerh...hahaha...