Tuesday, February 3, 2009
News: April Musical
Translated by Jamie @ http://zazafied.blogspot.com
Source: SingDao
Dr Liza Wang (Ah Jie), as the chairman of the HK Artist Association (8 woh), attended a Chinese New Year event to wish all a very happy new year. Fok Zhan Teng, Zang Dak Seng, Law Kar Ying etc also attended the event.
Liza revealed that she is currently rehearsing for her staged musical show at the HK Coliseum in April 2009. Liza, "Dou Kwok Wai (杜國威) is the writer of the musical and there would be a lot of singing and dancing. I am now practicing some new dance moves. Law Kar Ying would also play a part in the musical and he would be acting as himself."
As for 8 woh activities, Liza said that the society would be having a busy year ahead and would continue working with the Workers and Social Welfare Department to organize more skill-enhancing courses.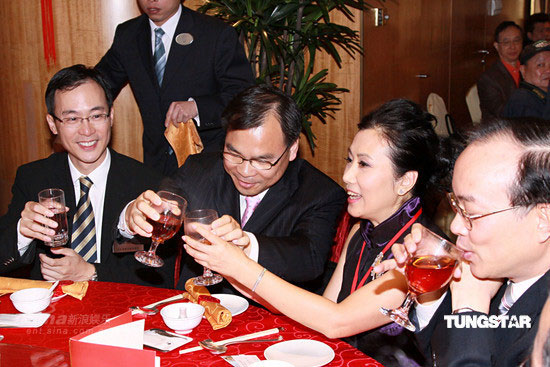 Liza enjoying a social drink with company directors
Bouquet from Miriam Yeung (she is such a big Liza fan!
Check out those snow-white arms!!!!